ELITech's Expertise
Wescor, an ELITech Group Company, has become a world leader in staining technology during the past three decades. The company has continued to improve the groundbreaking Aerospray staining method with advancements in staining quality, user-convenience and cost reduction. ELITech continues to listen carefully to those in the Hematology community to improve the Aerospray automated staining method.
Aerospray Hematology Pro is the result of this relentless search for excellence.
HOW IT WORKS
Reagents are applied from atomizing spray nozzles onto microscope slides containing the specimens. Staining is rapid and precise. Specimens contact only fresh stain, avoiding specimen crosscontamination or contact with contaminated reagents. Fixation can be done in the instrument or slides can be hand fixed.
THE ELITECH STAINING PROCESS FOR HEMATOLOGY
Simultaneous contact by both dyes produces the classic Romanowsky staining patterns with superior, textbook quality results. The thiazin and eosin dyes are loaded separately onto the instrument to correct the reagent stability problems common to mixed stains. These stains are automatically combined and mixed prior to application to produce superior results.
Aerospray offers a versatile selection of 9 different intensities for each of the 4 set programs: Rapid Wright-Giemsa, Wright-Giemsa, May-Grünwald Giemsa, and Custom Stain with simple adjustment routines to tailor the staining to individual preferences. A programmable function is also available for special staining requirements.
The Aerospray Hematology Pro Slide Stainer/Cytocentrifuge combines ELITech's advanced staining technology with the advantage of alcohol based staining routines plus powerful custom staining options.
With the optional Cytopro rotor, the Aerospray stainer becomes a superb cytocentrifuge with eight-slide capacity and keyboard programmability at a fraction of the cost of purchasing a stand-alone cytocentrifuge.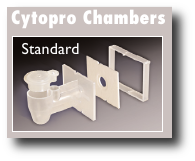 Combines ease of use with
superb cell recovery.
Dual Sample Chambers The reusable dual sample chambers allow you to place two 38.5 mm2 (7 mm diameter each) spots of specimen on the same microscope slide. Dual chambers are designed to operate the same as single chambers.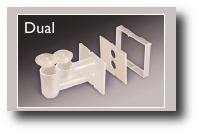 Advanced design places
two samples on the same
slide for increased efficiency and economy.
The Wescor Cytopro Magnum is a significant development in cytocentrifugation and liquid based cytology. Its revolutionary design offers superior results with extraordinary convenience and a new level of biohazard protection.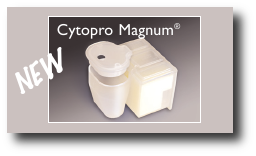 Allows for treatment of
large samples up to 6 mL.